The first weekend of March about 600 people occupied a lovely space on Pine Street in Long Beach and participated in a conference affectionately known as BIL (as in TED's counterpart). Among those people were about a dozen or so Health Extenders (Minda Myers, Michael Andregg, Mark Hamalainen, Paul Dabrowski, Dinelle Lucchesi, Aubrey de Grey, Christine Peterson, Heather Heine, Luke Nosek, Naureen Nayyar and more…) BIL describes itself as "Open to the public and fully participant driven, our yearly gathering features a wild mix of technologists, scientists, artists, hackers, and those with a passion for community awareness, social entrepreneurship, and innovation."
The majority of participants express an usually high interest in health extending science and we were thrilled to be able to spread the word about our growing community. We also confirmed our suspicions that Southern California wants some Health Extension Salons for themselves.
Here are 5 noteworthy Health Extension @BIL moments.
1.) Mark Hamalainen wins the heart of the conference by hosting twister races. 
Turns out that if Mark Hamalainen wasn't spending all his time in the lab at bio-tech up and comer Synthego he would be coordinating a worldwide campaign to make human beings have more fun..at least that's what he told me.  At BIL (and the last Health Extension Salon) he definitely delivered with his home made twister race. After the "Strap-on Sex" talk, I'd say this was the real crowd pleaser of the conference.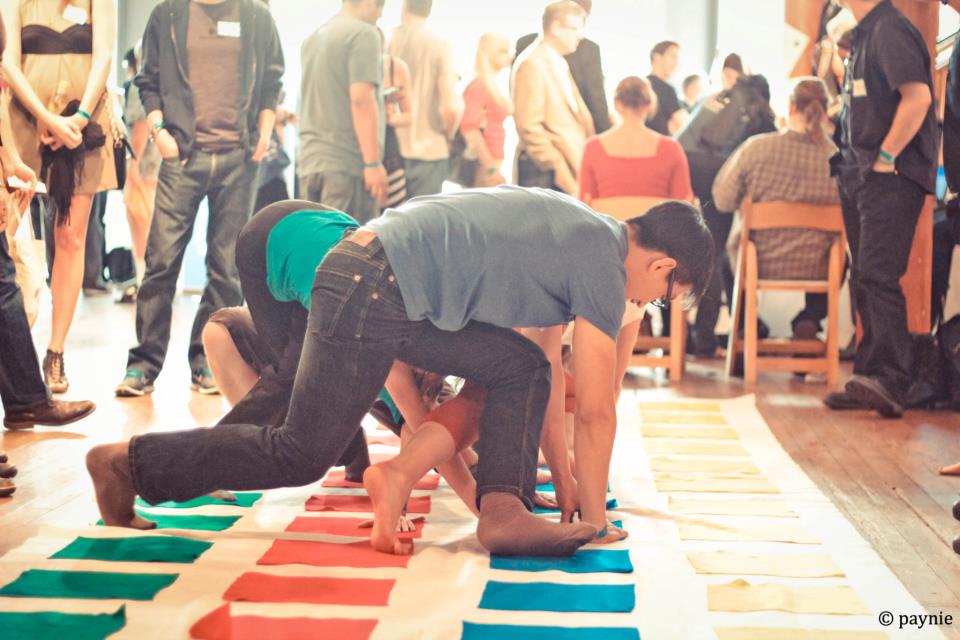 What event wouldn't be better with Twister races? 
2.) Christine Peterson tells the audience if we want to live longer, healthier lives we should probably fire our doctor. 
At BIL I found out that Health Extension advisor Christine Peterson coined the term "open source software." This caused me to say to Michael Andregg, "Dude, Christine Peterson is extremely legit." To which Mr. Andregg replied, "Totally legit. She IS this community."
There might not be anyone else on the planet delivering a better synthesized and engaging presentation about what is currently available to increase our healthy lifespans. My favorite part was when she told the audience she was sorry, she was sure their doctors were lovely people but they most likely weren't great at their jobs and should get fired. Check out more of Christine's wisdom  at Health Activator. She's you know…legit.
3.) Aubrey de Grey steals the mic from me and goes into overtime talking about The Pope.
Since anyone can do a session at BIL, my partner in crime Mark and I decided to experiment with a fun idea we had to determine the strength of an individual's will to live. Our measurement spectrum explored  how directly they were working on life saving therapies and research. Mark put typical BILders at 50% and people like Aubrey at 100%. Since Mark and I make fun of pretty much everything, we called 0% "docilely suicidal" and 100% "immortalist." Aubrey not only took exception to being called an immortalist (poor man can't shake his sensationalized past) but he also did not approve of Mark's assertion that The Pope belonged in the "dociley suicidal" zone. So he came to the mic and launched into what can only be described as a passionate tirade about how religion is the ally of health extension. The lovely and meek timekeeper was powerless against him. I was too busy laughing that most people at BIL didn't even know that there is no current Pope (because who really cares?) I did care about Aubrey's keynote earlier that day and was happy to finally see his live explanation the "7 Deadly Things" .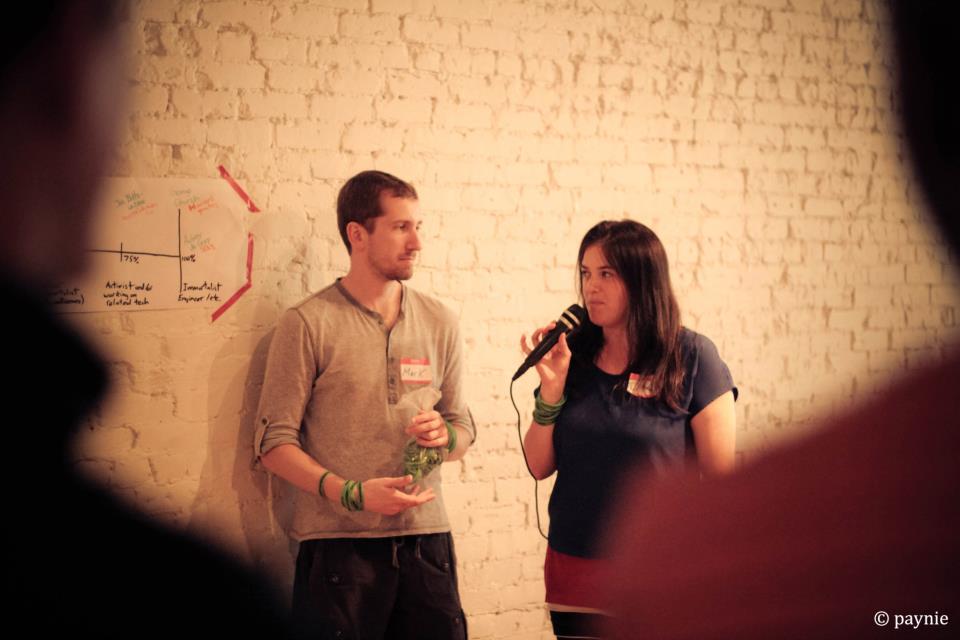 Mark insisted his will to live was at least 5% higher than mine.
4.) A Jolly gives the Health Extension Salon a shout out.
During his keynote about "Being Happy and Living Forever" A Jolly recommended attending Health Extension salons as a means to that end. We hope he takes his own advice and starts showing up more often 😉
Jolly's talk led to a later and more intimate discussion about the need for more participation and advocacy for anti-aging medicine research and funding from the BIL community at large-something Aubrey de Grey heavily referenced in his keynote as well.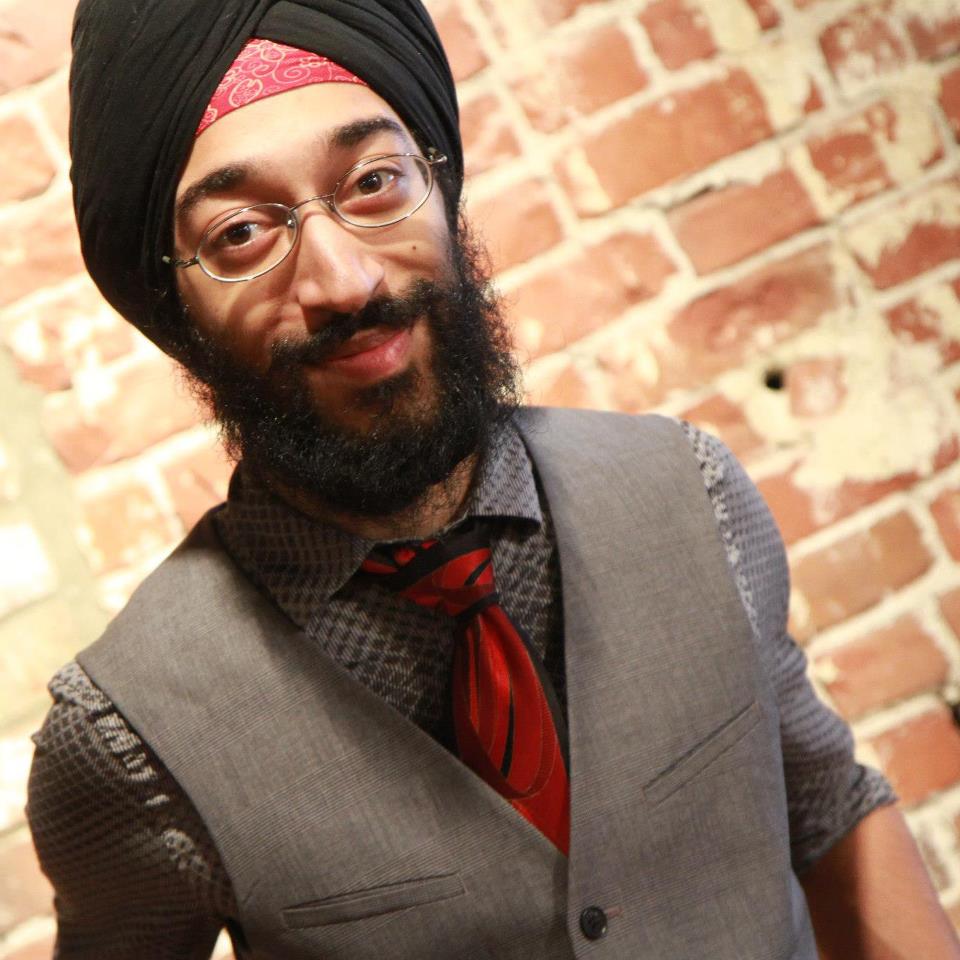 Thanks for the shout out and advocating for us, A. Jolly! See you at the next salon?
5.) Luke Nosek gets hooked up to speakers and starts an impromptu sidewalk dance party…with our help. 
A painfully hip frenchman spent most of BIL walking around with a backpack equipped with high quality speakers emitting electronica dance tunes. At the end of Saturday's conference the attendees were milling about on the sidewalk until the backpack was acquired by HE supporter Luke Nosek. Within minutes a viral dance outbreak was taking place…and just when I expected it to be over it got even bigger. This was the highlight of BIL for me: over a dozen people and at least as many onlookers suddenly dancing on the street with the very nice guy who founded Pay Pal and Space X. Why wouldn't you want to live longer if this was your life?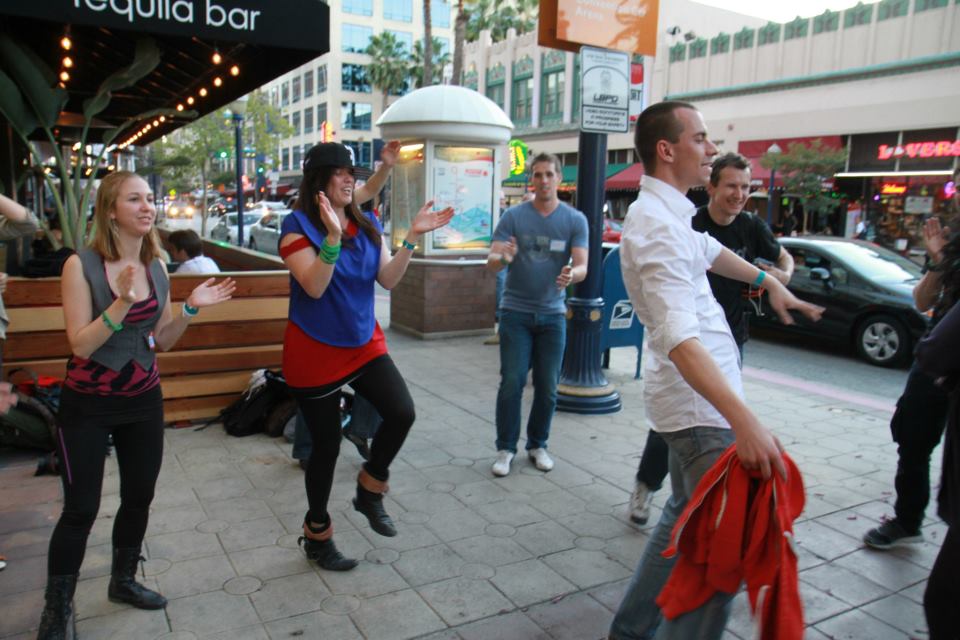 Time of my life!! http://www.youtube.com/watch?v=WpmILPAcRQo
No photos but worth mentioning: An epic silicone bracelet battle. Watch out for a rematch at the next salon.
-Written by Dinelle Lucchesi
http://healthextension.co/wp-content/uploads/2017/09/Health-Extension-logo-152x164-6-300x109.png
0
0
admin
http://healthextension.co/wp-content/uploads/2017/09/Health-Extension-logo-152x164-6-300x109.png
admin
2013-03-09 00:37:15
2013-03-09 00:37:15
Health Extenders Make a Mark @BIL2013